Dogfish shark tooth
$13.99 – $29.99
Feel one of the hundreds of crushing and slicing tools that line the jaws of sharks with this 20x-larger-than-life 3D printed shark tooth. Perfect for biology classes or as a collection item for shark lovers. Made in our workshop in Rhode Island, USA.
Description
There are few sights in the ocean more terrifying than that of a shark opening its mouth to reveal hundreds of razor sharp teeth. But there's nothing terrifying about this 20x-larger-than-life 3D printed shark tooth based on actual teeth from a spiny dogfish shark (Squalus acanthias). Shark teeth come in many different shapes (not just the triangular serrated teeth of white sharks) and this tooth is specialized for catching, cutting, and crushing prey.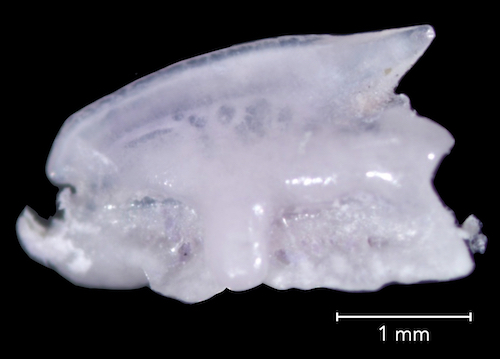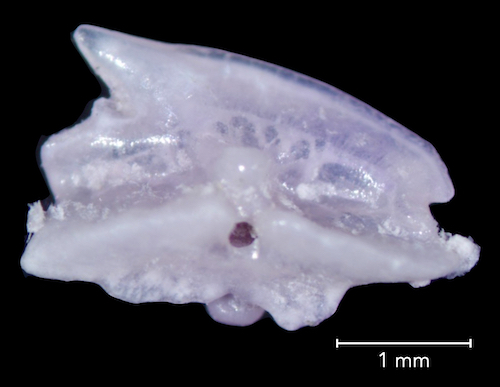 Imagine hundreds of these individual teeth packed tightly together and you can get a sense of why sharks have such a fearsome bite. When lined up in the jaw, the cutting edges of each tooth create a nearly continuous cutting edge while the points of each tooth (the tooth apex) create a barbed surface that holds the prey in place.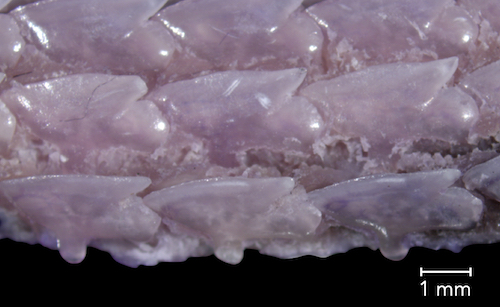 At just a couple feet long, the teeth of spiny dogfish sharks are too small to see in any detail without a microscope. With this 3D printed tooth scaled 20x larger than life, you'll be able to see the complex and specialized shape of these teeth with the naked eye. You'll also be able to feel the cutting edge, apex, and root that make these teeth such effective feeding tools. These 3D printed teeth are a perfect learning resource for vertebrate anatomy, ichthyology, and biology classes or collection item for shark lovers and natural history buffs.
Collection Card
Each tooth comes with an illustrated Collection Card explaining the position and orientation of the tooth in the jaw, scientific informations about the structure, and data about the specimen and species from which the 3D print was created.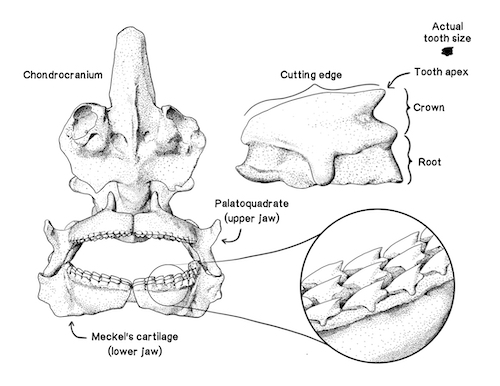 Product quality
To ensure exceptional quality, we print all our 3D printed anatomy products in our workshop in Pawtucket, Rhode Island (USA) and ship them directly to you. For 3D printing, we use only renewable PLA bioplastic filament using FDM (fused deposition modeling) printers. For the "Finished" surface option (recommended), we hand grind and sand the print to remove the layer lines, giving the print a natural texture and feel, similar to terracotta or smooth unglazed clay. If you choose the "Unfinished" surface option, your print will have visible layer lines (between 0.07 and 0.10 mm in height), seams, stray filament "strings," and small surface imperfections; this option is best for those who are less concerned with surface quality or who prefer to finish the surface themselves.
Product Use and Care
Cleaning your 3D print: Due to their porous surface, 3D prints made from PLA can easily pick up dirt and oils from the skin. This is the case for both finished and unfinished 3D prints, though the exposed layer lines of unfinished 3D prints make the latter even more susceptible to this. To clean your 3D print, simply wipe the print with a dish sponge and soap and water or with a towel and alcohol; soap, water, and alcohol are all safe to use on your 3D print.
Keep your 3D print from melting: Although PLA has a melting temperature of 338°F (170°C), it starts entering its "glass transition" phase at temperatures as low as 122°F (50°C). At this lower temperature, the surface of your 3D print may become gummy and your 3D print may start to deform. To prevent this from occurring, never leave your 3D print in an unattended car, in direct sun, or any other place where the air around the 3D print could reach temperatures in excess of 122°F (50°C).
Keep your 3D print from breaking: PLA is generally resistant to fracture. However, it is not indestructible. To keep your 3D print from breaking, do not bend it excessively, particularly in thin regions. We carefully design our 3D prints to make fractures unlikely.
Product Warnings
Choking hazard: This is a small part and thus a choking hazard for children 3 years old or younger and for pets. Keep away from children and pets.
Sharp points: This part has sharp points. Also, if this part breaks, the broken edges of the part may be sharp. Contact may result in injury. Always keep points and sharp edges away from eyes and handle with care. Use with adult supervision.
Product Credits
The model for this 3D print was created by Dr. Aaron Olsen based on teeth dissected from the left Meckel's cartilage (lower jaw) of a spiny dogfish shark (Squalus acanthias) and photographed through a dissecting microscope. The text on the accompanying Collector's Card was written by Dr. Callie Crawford and Aaron Olsen. The illustration on the accompanying Collector's Card was created by Michael Fath and edited by Aaron Olsen. Product photography and product description by Aaron Olsen.
Additional information
| | |
| --- | --- |
| Weight | 0.3 oz |
| Color | White |
| Surface | Finished, Unfinished |
| Weight (oz) | 0.3 oz |
| Weight (g) | 8 g |
| Dimensions (in) | 2.6 in x 1.7 in x 0.86 in |
| Dimensions (cm) | 6.6 cm x 4.4 cm x 2.2 cm |
| Print size : Life size | 20 : 1 |
| Manufactured in | Pawtucket, Rhode Island, USA |
| Shipped from | Pawtucket, Rhode Island, USA |